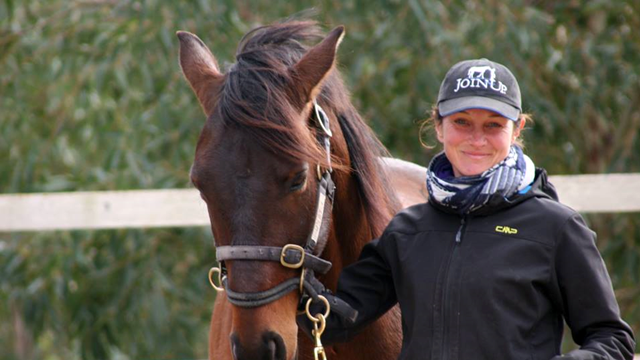 After an international training and years of work with horses, Ina Vargiu realized her dream: a center where she could practice training free from all forms of coercion and forcing. A pupil of the famous Monty Roberts, "the man who listened to horses", from whom he received training (Introductory and Advanced course) at the origin of his ideas on training, he lives with his horses in the heart of the Costa Smeralda, in Sardinia. In his native country (Germany) he obtained the O.T.E.B. of the German FN, with classical training in dressage and show jumping.
After his transfer to Italy he obtained the title of 1st level Instructor (National Sport). Seeing that the world of equestrian training was based on the principle of submission, coercion and often also violence against animals, he soon realized that there had to be another way: that of collaboration and respect for the horse. 
For years she participated in equine training courses and seminars, such as those held at the "AKA – Equine Communication Science Center" in Berlin, Germany, or those inspired by the ancient methods of Native Americans, in the USA or, again, the studies of "Free Training" according to the methods of Karin Tillisch in Germany, achieving, finally, the title of "behavioral operator for equines" (National Sport). But she did not stop at this goal: the idea of ​​being able to study equine psychology (now recognized as a scientific disciplinary field) in one of the most famous academies in the way of training horses has fascinated her.
I knew I would never use violence on an animal to train it and so, in 2008, I traveled to Solvang, California, to participate in my first horse trainer training course at the Monty Roberts International Learning Center. After a year of studies and practice on horses, I passed the exams, with the certification of "introductory course of horsemanship"
The advanced course followed in 2009, which included both work with severely traumatized animals, and training experiences with animals that had taken over, placing themselves on the hierarchical scale above the human being and finally the work of natural taming. What I learned in these two years had not been possible for me to learn it in the previous decades of experience in the equestrian world. It was as if I had finally discovered the true nature of the horse … ". The trainer, a native of Saarland, Germany, has been successfully operating for years in her own center with horses of different breeds and domestic the wild horse of the Giara. He also tames foals and works with traumatized horses.